Apple Working on 4K 'Ultra HD' Television Set for Late 2013 or Early 2014 Launch?
Apple's rumored television set project has a long history of claims from various sources, and while the "iWatch" has taken on a more prominent place in the rumor mill in recent months, an Apple television continues to be on the radar of a number of industry watchers.
Digitimes now reports on word from unidentified supply chain sources that Apple is working on an "Ultra HD" or "4K" television set that would carry a resolution of 3840 x 2160. The report claims that Apple's Internet-connected television set will support voice and motion control and is targeted for launch late this year or, perhaps more likely, early next year.
The sources said that Apple and Foxconn Electronics have been in discussions for quite some time in terms of the TV's mass production schedule, but that Apple has been considering where panel supply for the TV will come from, as Ultra HD TV panel makers, most of whom are based in Taiwan, are expected to be producing at nearly full capacity in 2013 in order to meet demand from China-based TV vendors.

Additionally, other panel makers in Apple's supply chain that may have the ability to produce Ultra HD TV panels are expected to allocate most of their panel production to the company's iPhone, iPad and iPad mini products instead, as ultra-mobile devices are expected to be popular in the market during 2013, the sources noted.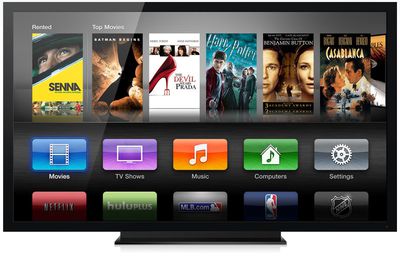 Pricing is a major issue on the first Ultra HD televisions announced so far, with price tags generally starting around $20,000, although Westinghouse is planning to launch a line of "budget" Ultra UD televisions this year starting at $2500 for a 50-inch model. Additional equipment will, however, be needed to take full advantage of the 4K capabilities.
But unlike Sony and LG, Westinghouse's models will be barebones displays with no on-board Smart TV features and no elaborate 4K up-conversion video processing technology.

Instead, [Westinghouse senior vice president of marketing Rey] Roque said, Westinghouse expects viewers to use the 4K video processing converters that come built into select Blu-ray Disc players, A/V receivers and other devices to handle that load. To present pictures from regular sources, the sets will have only simple 4K up-scaling circuitry and 120Hz refresh rates.
The most recent Apple television set rumor from a mainstream news source came last December when The Wall Street Journal reported that Apple and Foxconn have been testing prototypes, but a source noted that the effort was still in the early stages and wasn't yet a "formal project" for Apple.