MacRumors 2013 Blood Drive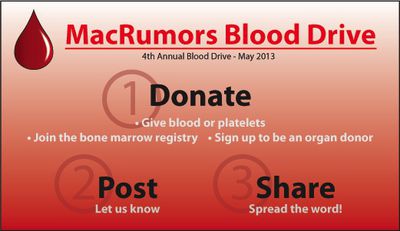 MacRumors is pleased to announce the Fourth Annual MacRumors Blood Drive, running for the month of May 2013. Our goal is to increase the number of life-saving donations in real-world communities by encouraging everyone in our online community to step forward. While most blood drives are specific to a geographic location and a specific collection center, our blood drive is online and worldwide.
We ask that you:
1. Donate blood or platelets at any hospital or other donation center near you. Join the bone marrow registry in your country. Sign up for the organ donor registry in your state, province, or country.
2. Post in the MacRumors 2013 Blood Drive! thread. Show us your bandage/plaster after donating blood or tell us your story of registering as a bone marrow or organ donor. Let us thank you and help us thank other users who donate and/or register.
3. Share the message with other people you know.
For details see the MacRumors 2013 Blood Drive! thread.
Why donate blood or platelets?
Donated blood and platelets save the lives of people recovering from accidents, undergoing surgery, or struck by illness. These are people in your own neighborhoods who need your help to recover. Donated blood and platelets are needed every 2 seconds, not just when calamities such as hurricanes and earthquakes occur. An hour of your time could save up to 3 lives.
Why join the bone marrow registry?
With a simple cheek swab you are volunteering to donate stem cells or bone marrow if you turn out to match someone dying from a disease like leukemia. You might be the only person who matches them and can save their life.
Why join the organ donor registry?
Thousands of people die every year while waiting for organ transplants. Your donation of organs when your own life ends could save the lives of as many as 8 people.
The lives you save may belong to your friends, neighbors, relatives, or complete strangers. Someday you may receive the same generosity from others. A number of MacRumors members have already told us that the life of a loved one, or their own life, was saved by the donations of strangers. There's no gift more precious than the gift of life.

This year's first blood donor: forum member "ComeAgain?"
Donor eligibility requirements vary by country. We provide links and general information in our guides to
Blood and Platelet Donation
and
Organ, Tissue, and Bone Marrow Donation
.
If you are eligible, please schedule a blood or platelet donation, register for the bone marrow registry, and register as an organ donor in the month of May. If you aren't eligible to donate blood, we still ask for your support in encouraging others to donate and thanking those who do, and we suggest that you check if you are eligible for the bone marrow and organ donor registries. If you think the blood donor eligibility rules in your country are unfair and discriminatory, speak up in the Blood donor eligibility discussion thread.
Apple has supported a number of health, relief, and charity efforts over the years, even though Steve Jobs was not known for personal philanthropy. See our new guide to Apple Support for Charity.