Apple Donates $2.5 Million to American Red Cross for Hurricane Sandy Relief
9to5Mac shares an email sent to Apple employees by CEO Tim Cook announcing that the company has donated $2.5 million to the American Red Cross in support of Hurricane Sandy relief efforts.
Team:

For the past week, our thoughts have been with those affected by Hurricane Sandy and its aftermath. And Apple employees and customers the world over have raised millions of dollars toward the relief effort so far. But we can always do more.

That's why, on behalf of all our employees, Apple is making a donation of $2.5 million to the American Red Cross to benefit Hurricane Sandy relief. We hope this contribution will help families, businesses, and communities recover and rebuild.

Tim Cook
November 8, 2012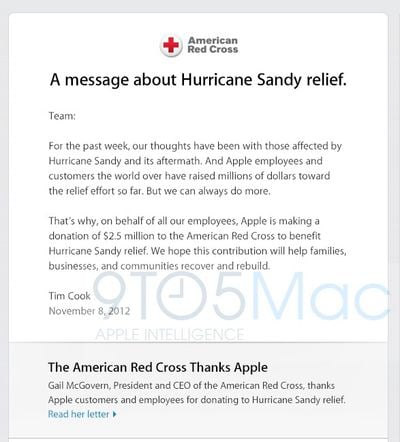 Apple's own donation comes in addition to its program facilitating donations from iTunes Store users. Under that program, users can donate by simply clicking a button in the iTunes Store, with the amount of the donation being charged to the credit card on file for their account. Apple is not taking a cut of those donations, passing 100% of the amount along to the American Red Cross.