Apple Adds 'Learn More About In-App Purchases' Feature to iPad App Store
As noted by AppAdvice, Apple yesterday added a new "Learn More About In-App Purchases" feature to the iPad version of the App Store, marking yet another step in the company's efforts to make users aware that some free and paid apps may offer the ability to purchase additional content from within the apps.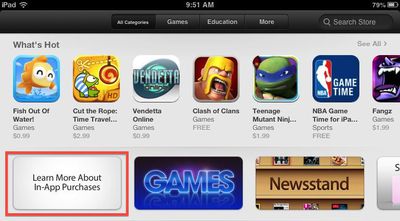 The document includes four sections, addressing what In-App Purchases are, types of In-App Purchases, how they work, and how Parental Controls in iOS can be used to turn the feature off entirely.
On devices running iOS 4.3 or later, you must enter your password to make an In-App Purchase. Once you enter your password to make that purchase, additional In-App Purchases can be made without reentering your password for 15 minutes. To change your settings to require a password entry with every purchase, open Settings, tap General, then tap Restrictions, and change Require Password.


The new addition comes roughly a month after Apple added prominent "Offers In-App Purchases" labels on App Store pages for apps supporting the feature. The company also recently settled a lawsuit related to children having been able to make In-App Purchases, occasionally for as much as thousands of dollars, without authorization.
The new informational feature is currently visible only in the iPad version of the App Store, and it is unclear if and when it will make its way to the App Store on the iPhone and in iTunes.