Apple Offers Refund After British Boy Spends $2500 on In-App Purchases in 15 Minutes
A five-year-old boy in the UK accidentally made £1700 ($2550) of in-app purchases in a freemium game in just 15 minutes after asking his father to type in the password for a free download, reports the BBC (via Gizmodo).
The
Zombies vs Ninja
game was a free download, but with £70 ($105) in-app purchases for game keys and weapons packs. Neither the 5-year-old, Danny Kitchen, nor his parents were aware of the charges being racked up as the child played. His mother Sharon Kitchen said:
He was very upset when he realised what he had done. His brothers and sisters were telling him off, but of course he didn't know what he did - he's only five.
Apple refunded the charges, but the incident does highlight the dangers of freemium games aimed at young children. As for Danny:
I was worried and I felt sad. I'm banned from the iPad now.
The publicity comes just days after Apple settled a U.S. lawsuit over the same issue, offering affected customers iTunes credits of at least $5, with cash payments available to customers with claims over $30.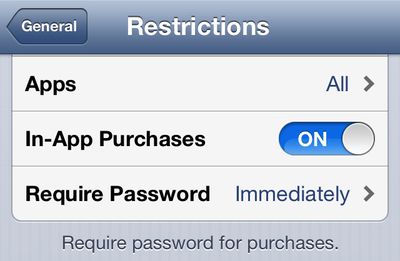 It is not entirely clear how Danny Kitchen was able to purchase in-app content if his father had only entered the account password to download an app, as Apple separated app and in-app purchases with iOS 4.3 two years ago. The Kitchen's password should have been required a second time before in-app purchase could be downloaded.
Apple also provides a variety of parental controls and restriction tools to help minimize the possibility of such issues, allowing parents to restrict what types of content may be used on the device, turn off app downloads or in-app purchases, and require the account password for every app or in-app transaction.