More Efficient LED Backlighting May Lead to Thinner, Lighter iPad 5
Improvements to the iPad's LED backlighting will allow Apple to create a thinner iPad 5, NPD DisplaySearch's Paul Semenza told CNET.
"It's likely that part of the thinner/lighter design will be reducing the size of the LED backlight, partly by making the display more efficient and partly by using more efficient LEDs," said Paul Semenza, an analyst at NPD DisplaySearch, in an e-mail to CNET.
The Retina displays of the third and fourth generation iPads required a dual-LED backlight along with a bigger battery, which caused them to be thicker than the previous iPad 2.
Semenza also pointed out that a shift to a film-based touch sensor might also serve to reduce bulk. The current iPad mini incorporates a DITO film touch panel sensor which contributes to its 7.2mm thickness. He was unsure whether Apple might consider a switch to different display technology, but some reports have suggested that Apple is investigating IGZO panels.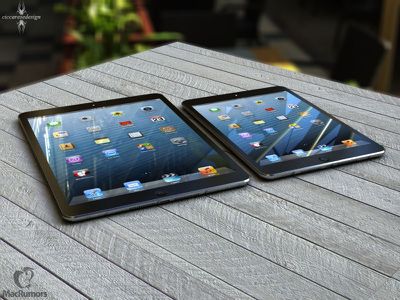 Mockup of the 5th generation iPad next to the iPad mini
DisplaySearch has extensive sources in the display supply chain, but a mixed track record when it comes to predictions. Before the launch of the fourth generation iPad DisplaySearch
claimed
that the tablet would launch with a thinner design, a prediction that ended up being incorrect after the iPad was released with the same form factor as the third generation iPad. The research firm did, however, accurately
predict
the in-cell display technology used in the iPhone 5.
Rumors of a thinner iPad 5 originated last year and were followed up with photos of an alleged rear shell of the device in January and case leaks in February. Photos of the front bezel of the iPad 5 surfaced yesterday, featuring a narrower iPad mini-style design.