First Photos of the iPad 5 Rear Shell Show a Significantly Smaller Enclosure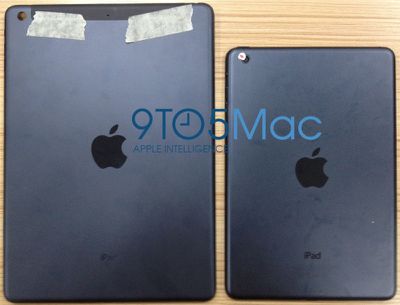 Rumored 5th Generation iPad (left) vs iPad mini (right)
9to5Mac
has unconfirmed images
of what could be the rear panel for the next iPad. The images match up very closely
with a report from last week
.
While we cannot confirm that the above image is legitimate, it does provide a solid representation of what Apple's next iPad will likely look like. We were told this is a prototype back piece for the fifth-generation iPad with a 9.7-inch display. We were also told that the casing is almost as thin as the iPad mini's back (pictured to the right). As you can see at the top of the purported iPad 5 backplate, this casing would likely be for an LTE model – as the black antenna cut implies.


The report lines up with iLounge's first description of the new iPad which is expected to arrive in October with smaller, iPad mini-esque bezels and chamfered edges and curves.
What does it look like? Well, it's a lot smaller than one would guess was possible: in portrait orientation, picture a 9.7" screen with virtually no left or right bezels, and only enough space above and below the screen to accommodate the mandatory camera and Home Button elements. Beyond that, it's noticeably thinner, as well, which is to say the the fifth-generation iPad will be smaller in every dimension than its predecessors. As it will have the same chamfered edges and curves, calling it a "stretched iPad mini" is very close to entirely accurate.
Leaks of parts for upcoming Apple products are becoming more and more common as the Asian supply chain grows larger.
Update:

In this composite, you see the new iPad is much smaller than the current iPad. The iPad 4 (
image
) and iPad 5 (
image
) have been overlaid to show the relative sizes.
Update 2: A reader overlaid the screen sizes showing how much of a bezel the new iPad might have.
Update 3: Diwali posted this mockup based on the dimensions of the case: