Alleged Parts for Upcoming iPhone Leak Again, Mute Switch to Become Push Button?
Several weeks ago, photos of a pair of parts alleged to be from the iPhone 5S surfaced through a Japanese parts vendor. The parts included a flex cable for the device's home button and a second flex cable housing the vibrator and volume/mute controls.
Another Japanese parts vendor, iLab Factory, has now posted a new set of photos showing not only those two parts but also a third flex cable that appears to house the device's front camera. iLab Factory points out that these parts may be from the iPhone 5S but could alternatively be from Apple's rumored lower-cost iPhone.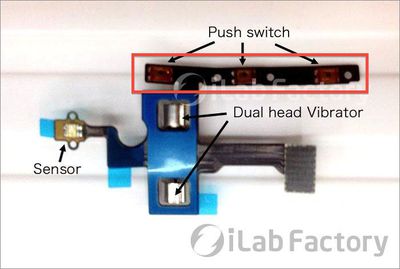 Vibrator/audio control flex cable for iPhone 5S or lower-cost iPhone
One interesting item of note that we neglected to point out in our previous report relates to the vibrator/volume control flex cable. The part contains a strip of three buttons to run along the edge of the device, corresponding to the locations of the two volume buttons and the mute switch on previous iPhone models. But on this part, all three features appear to be buttons, suggesting that this upcoming iPhone may see the mute switch become a push button.

iPhone 5 audio control cable with mute switch boxed in red (Source: iFixit)
iLab Factory also notes that the vibrator in this part uses a dual-head design, which is distinct from the
iPhone 5 vibrator design
, although it is unclear what may have prompted the change.
The other two parts shared by iLab Factory reveal little information, with the home button flex cable appearing essentially identical to the previously seen part except for a part number change from 821-1684-01 to 821-1684-02. These parts do, however, contain a significantly longer cable than seen on the corresponding iPhone 5 part.


The layout of the front camera flex cable is nearly identical to the corresponding iPhone 5 part, although this leaked part is missing the microphone and other sensors seen on the iPhone 5 part offered by iFixit.