Alleged iPhone 5S Home Button, Vibrator and Volume/Mute Flex Cable Parts Surface
Nowhereelse.fr reports [Google translation] that it has spotted a pair of alleged parts for the iPhone 5S. The parts appear to have been posted by Japanese vendor Moumantai.
The first part is the device's home button, which looks very similar to the home button on the iPhone 5 with the exception of the flex cable used to connect to the main logic board. The cable on the iPhone 5S is much longer than seen in the iPhone 5 and is routed differently through the device's body.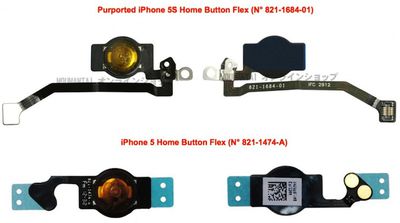 Apple has been rumored to be adding a fingerprint sensor to the iPhone 5S in the area of the home button, but if such a feature is to be integrated into the home button itself somehow, it does not seem to be apparent from this part.
The second part is claimed to be the vibrator for the iPhone 5S, although the image shows the vibrator attached to a flex cable that also appears to support the volume buttons and mute switch along the side of the device. The cable appears to be of a more compact layout than the corresponding iPhone 5 part.


Part leaks from the iPhone 5S have so far been difficult to find, although speaker enclosures for both the iPhone 5S and iPhone 6 allegedly surfaced several months ago. The legitimacy of those claims has, however, remained unconfirmed.