U.S. Patent Office Withdraws Primary Objections to Apple's 'iPad Mini' Trademark Application
Last week, we noted that the U.S. Patent and Trademark Office (USPTO) had issued an initial office action denying Apple's application for a trademark on the term "iPad mini".
The examiner's primary objection to Apple's application related to all of the elements of the "iPad mini" name having been judged as descriptive rather than contributing to a unique product name. A second objection related to Apple's use of the iPad mini overview page as its specimen proving that the named product was being offered for sale.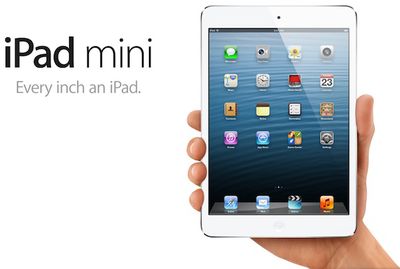 At the time, we noted that a resolution to the issue would likely be relatively straightforward, with Apple simply needing to show that the "iPad mini" term was an extension of its already distinctive "iPad" trademark and submit a new specimen satisfying the examiner's objection.
Based on a newly published office action from the USPTO, dated last Wednesday, the issue has in fact mostly been resolved without Apple having had to address the examiner's objections. Presumably responding to the publicity surrounding the initial decision, the USPTO has preemptively withdrawn its two main objections to Apple's objections.
This Office action supersedes any previous Office action issued in connection with this application.

Upon further review of the application, the examining attorney has determined that the following refusals issued in the initial Office action should be withdrawn. The examining attorney apologizes for any inconvenience caused.

REFUSALS WITHDRAWN:

The Trademark Act Section 2(e)(1) descriptiveness refusal and the Sections 1 and 45 specimen refusal are both withdrawn.
The new document continues to alert Apple to several other issues with the trademark application, including potential refusal should earlier pending applications from other companies seeking to protect the names of their electronics products with "mini" in them end up being granted. No action on this issue is, however, required by Apple at this time.
The document also holds firm on the requirement that Apple add a disclaimer to its application noting that it only seeks to protect the term "mini" when used as part of the "iPad mini" name. The disclaimer would allow other companies to use the "mini" term in their own product names.