Apple Working on Dedicated iOS Game Controller? [Updated]
Pocketgamer reports that Apple spoke with a number of developers at the Game Developers Conference this week about providing game support for a new, official iOS game controller. Apple was rumored to have a physical game controller in the works for the iPhone last year, but nothing has yet seen the light of day.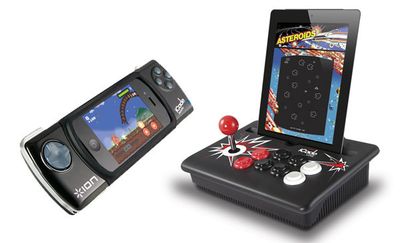 Two iCade Game Controller Products
Of course, there's no official word yet, but Apple has been active during the conference talking to developers about its plans and ensuring plenty of games will support the joypad at launch.

It's been operating a meeting room at the show, albeit booked under a pseudonym company name to avoid media attention.

However, speaking anonymously, multiple developer sources have confirmed the news to PocketGamer.biz.
Back in 2008, Apple applied for a patent relating to a Wiimote-like controller, but there is no indication that patent is related to this effort.
There are a number of third-party game controllers including the iCade line and an Atari Joystick. However, these third-party efforts have been hampered by a lack of widespread support from developers.
MacRumors had heard previously that Apple had originally supported accessory makers in their quest to make official dock-connector game controllers, but then the approval process was mysteriously halted. Some had speculated at the time that Apple was working on their own game controller solution.
For what it's worth, none of our GDC contacts have heard anything to corroborate the Pocketgamer story, and there is no indication of when or if such a controller might launch.
Update 1:33 PM: The Loop's Jim Dalrymple has quashed the rumor, responding to Pocketgamer's report with a simple "Nope".