CES 2012: iCade iOS Game Controller Expands to iCade Jr., iCade Mobile, and iCade Core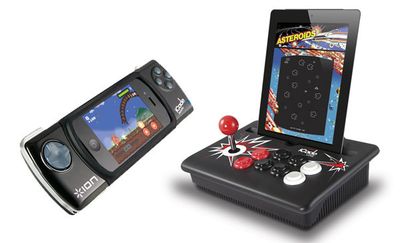 Ion Audio's original iPad iCade started life as a ThinkGeek April Fool's joke but has since become one of the most well supported iOS game controller accessories. If you aren't familiar with it, it was a small arcade cabinet stand that allowed you to prop your iPad up and play games using a real joystick and buttons. The company behind the iPad gaming accessory has now announced that they have expanded to three new models to service a broader range of iOS devices.
iCade Core - Pictured on the top right, the iCade Core offers a stripped down version of the original iCade cabinet and supports the iPad, iPhone and iPod Touch. Like the original iCade, the iCade Core lets you play your iOS games with a real joystick and buttons. Communication is done through Bluetooth, but a 30-pin connector is included to allow for charging while playing. No pricing yet for this slimmed down version.
iCade Mobile - Pictured top left, the iCade Mobile is a device that wraps around the iPhone or iPod Touch to give you more of a mobile handheld gaming experience. Again, using Bluetooth alone for the communication, it offers a swiveling landscape or portrait orientation. This one will cost $79.99 when it becomes available this spring. Engadget took this video showing it in motion.
iCade Jr. - Pictured below, the iCade Jr. is a shrunk down version of the original iCade. This version is made specifically for the iPhone or iPod Touch and lets you prop up your device in this miniaturized arcade cabinet. It comes with an arcade joystick and 4 front facing buttons a 4 rear facing buttons. It also offers a dock connector for charging. This one is expected to cost $49, again coming in spring.


There have been other similar mobile gaming accessories for iOS devices, but the iCade seems to be the one that has garnered the most support amongst gaming developers. The new devices will likely be directly compatible with the existing list of iCade compatible games.
The most notable titles include Atari's Greatest Hits, Pac Man for iPad, Temple Run and iMAME (no longer available).