Apple to Triple Reseller Network in India to 200 Stores by 2015
The Economic Times reports (via iPhone Hacks) that Apple is tripling the size of its reseller network in India by 2015, growing to 200 stores.
These franchisees, who did not wish to be named, told ET that they have been asked to scale up operations in the country as the Cupertino-based company plans to grow aggressively in the country. In addition to increasing the number of Apple exclusive stores, called Apple Premium Resellers, that are owned and managed by 17 franchisees, the company also plans to expand its presence in multi-brand stores, they said.

Some of these plans are said to have been discussed during last month's Mumbai visit of Hugeues Asseman, Apple's vicepresident (sales) for Europe, Middle-East, India, and Africa. Asseman met key trade partners and franchisee owners to take stock of the company's India business and to outline the company's expansion plans.
We first noticed Apple's expansion plans almost exactly one year ago after the company posted a job listing seeking a new national manager for the Apple Premium Reseller (APR) program in India, with the listing describing a "significant growth plan for the future".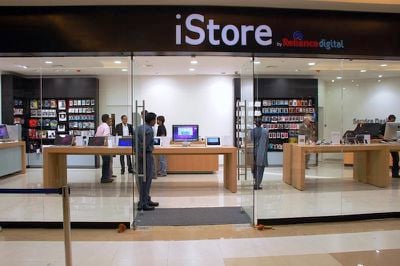 Today's report also indicates that Apple has still been unable to find a way to open its own retail stores in India, given regulations requiring such single-brand stores to source 30% of their products from within the country.
Currently, the US company does not manufacture any of its products in India and the 30% sourcing clause could, therefore, deter it from opening self-owned stores. But it has asked its franchisees to upgrade Apple exclusive stores in India to global specifications, including designing, lay-outs, fit-outs, and is even sending its global suppliers to fit those stores. These outlets will have a lot of glass decor, which Apple uses at its company-owned stores in the US. The cost of refitting and redesigning each store is expected to be more than Rs 1 crore, which the company will reimburse the franchisee owners over a year, an Apple Premium Reseller franchisee said.
Late last year, Apple brought on two new distribution companies to assist with the company's iPhone business in India, an effort that resulted in a tripling of sales.
Apple has also been working to expand its content ecosystem in India, launching music and movies in the iTunes Store back in December and complementing that move with a February debut for the Apple TV.