iTunes Music Store Launches in 56 New Countries, Movies Arrive in Four
Earlier today, we noted that the iTunes Music Store had gone live in Russia and Turkey, but now that changes have propagated throughout iTunes and we've had time to collect reports, it now appears that Apple is selling music through the iTunes Store in 56 new countries. The additions nearly double the number of countries in which the iTunes Music Store operates.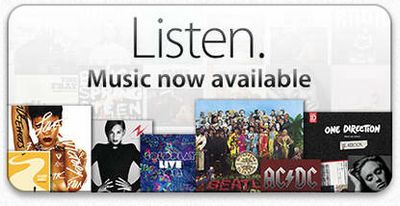 The new countries include:
- Europe: Belarus, Moldova, Russia, Turkey, Ukraine
- Africa, the Middle East and India: Armenia, Azerbaijan, Bahrain, Botswana, Burkina Faso, Cape Verde, Egypt, Gambia, Ghana, Guinea-Bissau, India, Israel, Jordan, Kenya, Lebanon, Mauritius, Mozambique, Namibia, Niger, Nigeria, Oman, Qatar, Saudi Arabia, South Africa, Swaziland, United Arab Emirates, Uganda, Zimbabwe
- Asia Pacific: Fiji, Indonesia, Kazakhstan, Kyrgyzstan, Micronesia, Mongolia, Nepal, Papua New Guinea, Tajikistan, Turkmenistan, Uzbekistan
- Latin America and the Caribbean: Anguilla, Antigua and Barbuda, Bahamas, Barbados, Belize, Bermuda, British Virgin Islands, Cayman Islands, Dominica, Grenada, St. Kitts and Nevis, Trinidad and Tobago
Beyond music, four of the new countries have also seen Apple roll out access to movies: India, Indonesia, Russia, and Turkey.
Update 9:08 PM: Apple has published a press release confirming that it has launched the iTunes Store in 56 new countries.