Walmart Expanding 'Scan & Go' iPhone Self-Checkout to Over 200 Stores
Reuters reports that Walmart is expanding its iPhone-based Scan & Go self-checkout system to over 200 of its stores, up from 70 currently. The company began pilot testing on the project, which allows users to scan items into an iPhone app as they shop and then easily pay for their items at a checkout station as they leave the store, last August.
For now, "Scan & Go" only works on Apple Inc devices. An Android version should be out soon, Walmart said.

With more than half of its shoppers using smartphones, Walmart is trying to make shopping more convenient for shoppers who embrace mobile technology. More than half of the customers who have tried the "Scan & Go" feature have used it more than once, [Walmart senior vice president Gibu] Thomas said.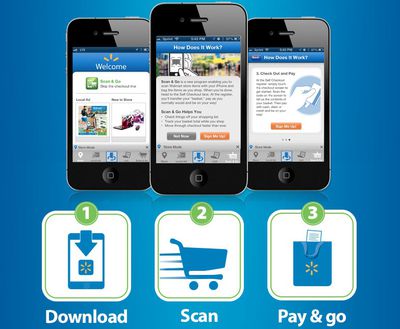 The Scan & Go program is currently in place at a number of Walmart stores in Georgia and Arkansas, with individual stores in Vancouver, Washington and San Jose, California also participating. The current expansion will bring the program to a number of new areas in the central and western part of the United States.
Walmart is bringing "Scan & Go" into a dozen more markets: Denver, Colorado; Phoenix, Arizona; Omaha, Nebraska; Dallas and Austin, Texas; Oklahoma City and Tulsa, Oklahoma; Wyoming; Bozeman, Montana; Seattle, Washington; San Jose, California; and Portland, Oregon.
The report notes that while customers are able to record their purchases on their iPhones, they still must pay using traditional methods at self-checkout stations, and the company declined to comment on whether it has plans to offer more integrated mobile payment methods such as directly through the app itself.
Scan & Go is offered through the standard Walmart iOS app, with users able to access a special mode of the app when they visit Walmart locations supporting Scan & Go.