Lower-Cost iPhone Said to Use 'Super-Thin' Plastic and Fiberglass Shell in 4-6 Colors
KGI Securities analyst Ming-Chi Kuo is reiterating his claims that Apple's low-cost iPhone will have a 4-inch screen, plastic casing, and be available in a range of colors similar to Apple's iPod lineup, sharing a few new details in a report highlighted by AppleInsider. In particular, Kuo shares offers some information on the device's plastic and fiberglass casing.
The new, less expensive iPhone model is said to have a "super-thin plastic casing mixed with glass fiber." The material will make it stronger, thinner and lighter than typical smartphone plastic casings, Kuo said.

He expects the thickness to be between 0.4 and 0.6 millimeters, which is thinner than the average plastic casing at between 0.7 and 1 millimeter.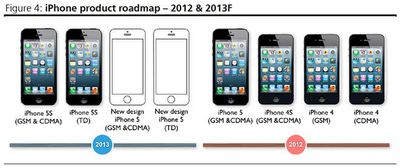 Kuo had previously suggested the phone would be available in a range of six colors, but is now being more cautious in suggesting "between four and six."
Key Apple supplier Foxconn will manufacture complete phones, he says, while Green Point will make additional casings for phones that will be assembled by Pegatron. The analyst has previous suggested that Apple is looking to diversify suppliers, and that Pegatron would be responsible for assembling the majority of the low-cost iPhones.