Apple's 2013 Product Roadmap Predictions: Multiple iPhones, Retina iPad Mini, All-Retina MacBook Pros
KGI Securities analyst Ming-Chi Kuo, who has a very good track record in predicting Apple's product plans, has issued a new research report outlining his expectations for Apple's 2013 product launches. Kuo believes that Apple will focus its launches on the third quarter of this year, with a number of updates throughout the company's various product families.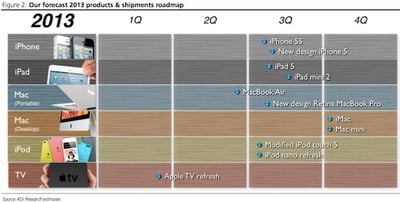 - iPhone: Kuo expects that Apple will introduce both an iPhone 5S and a revamped iPhone 5 around June or July of this year, with the iPhone 5S appearing very similar to the current iPhone 5 but carrying a number of upgrades including an A7 system-on-a-chip for better performance, a fingerprint sensor, and camera improvements such as an f2.0 aperture and a smart LED flash. He also believes that the lower-cost iPhone will in many ways simply be an iPhone 5 repackaged into a slightly thicker (8.2 mm vs. the current 7.6 mm) plastic enclosure available in six colors.


- iPad and iPad mini: Kuo forecasts that Apple will update both lines during the third quarter of the year, with the iPad mini gaining a Retina display as the most notable change. He also predicts that the full-size iPad will become considerably slimmer and lighter and adopt the thinner side bezels seen on the iPad mini.
- MacBook Pro: In line with his predictions from last year, Kuo believes that Apple will do away with the non-Retina MacBook Pro line in 2013, moving to an all-Retina lineup at cheaper price points than the current Retina models. Kuo also believes that Apple will tweak the design of these thinner Retina MacBook Pros, despite having just introduced the current form factor last year.
- MacBook Air: Retina displays remain a challenge for the MacBook Air given their relative thickness, and Kuo predicts that they will not be appearing in the 2013 MacBook Air lineup. Kuo believes that a move to Intel's forthcoming Haswell platform will be the main upgrade for the machines, with the update coming perhaps as soon as late in the second quarter.
- Desktops: Kuo notes that the iMac redesign has been well-received, but it appears that he does not see Retina displays coming to the lineup in 2013. He simply predicts a shift to the Haswell platform for the iMac and Mac mini in the fourth quarter of the year. Kuo's report does not address a new Mac Pro, even though Apple CEO Tim Cook had personally shared that a significant update for the line was due in 2013.
- iPod touch: Apple will reportedly discontinue the fourth-generation iPod touch, which is currently being sold alongside the new fifth-generation models. In order to fill the gap, Kuo believes that Apple will introduce a scaled-back fifth-generation model with 8 GB of storage and no rear camera at $199.
- Apple TV: Kuo predicts a minor update to the existing Apple TV product as soon as late this quarter, but he offers no details on what the update would entail. He also notes that Apple's more substantial television effort is unlikely to appear in 2013, with content issues and a lack of experience in the television set industry pushing things back until 2014.