Apple Applies for Patent on Wireless iPad Charging via Smart Cover
Apple has applied for a patent for an interesting take on wireless charging, allowing a Smart Cover with embedded battery to recharge the iPad (discovered by AppleInsider).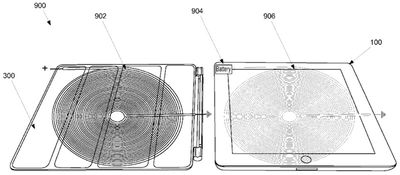 At first blush, Apple's invention, aptly titled "Integrated inductive charging in protective cover," appears to simply be a first-party incarnation of upcoming products that use inductive charging to transfer power to an iOS device. These components usually incorporate an induction coil and transformer that outputs power via a cord plugged into the device's dock connector. Apple's patent filing describes something different.

Instead of sourcing power from a stationary dock, Apple's invention calls for a tablet case, or more specifically an iPad Smart Cover, to hold the inductive power transmitter. In some embodiments, an internal battery is disposed within the case, basically creating an "on-the-go" wireless charger.
Wireless charging efficiency relies on close proximity between the transmitting and receiving induction coils. Apple's existing Smart Cover magnet system uses magnets with alternating polarities to ensure a precise alignment of cover to iPad, a pairing that would help optimize the charging system.
The system would automatically charge the iPad when the cover is closed, with the cover itself being charged conventionally by plugging it into a power source via USB, although Apple notes that solar cells could also be incorporated into the cover.
Apple has had a long-standing interest in various forms of wireless charging, but the technology has yet to make its way into the company's mobile devices. Just last week, a report suggested that Apple may be introducing wireless charging the iPhone as soon as this year, although it seems like a relatively unlikely addition for the iPhone 5S.
Alongside last year's introduction of the new Lightning connector, Apple marketing chief Phil Schiller downplayed the importance of wireless charging, although Apple executives have been known to dismiss certain features only to introduce them in future products.
As ever, we note that Apple applies for patents on a significant number of ideas that never make it into production, but wireless charging is growing in popularity and it seems likely that Apple will introduce it at some point in the future.