A5 Chip in Tweaked Apple TV Still Manufactured by Samsung at 32nm
Earlier this week, we opened up the newly tweaked Apple TV to find a remarkably small A5 chip inside rather than an A5X as had been suspected from the device's software posted by Apple over a month ago.
Since that time, we've been talking with chip experts at Chipworks and Silicon-IP about the possibilities and have confirmed that, unlike in the previous Apple TV, this even smaller A5 does not use a stacked chip design involving the DRAM. We were unable to identify the chip to the left of the A5 in our unit due to illegible markings, but Chipworks has cracked open another unit and discovered Elpida DRAM in that location.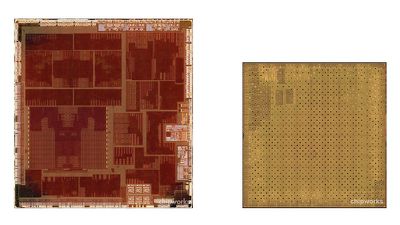 Size comparison of 2012 A5 die with 2013 die
Despite continued rumors that Apple has been working very hard to transition away from Samsung for production of A-series chips, it appears that Apple has not yet been able to make that step on a mass production basis, as this new smaller A5 is still being fabbed by Samsung.
Chipworks has confirmed the die size of this new A5 at 6.1 mm x 6.2 mm, making it just over half the size of the 8.19 mm by 8.68 mm die in the previous version and less than a third the size of the original A5 introduced in the iPad 2 two years ago.

Despite confirmation that this new A5 chip is being manufactured by Samsung, Chipworks is still working to confirm the process node for the chip.
Is this new A5 a pipe-cleaner for TSMC in a lower volume (and risk) device? Is this new A5 a lower cost variant that we will see in new lower end phones from Apple? Is it a shrink from Samsung's 32-nm process to their 28-nm? All were speculated upon, and this time around we can deny the first rumor by confirming that the chip has die markings consistent with the continued use of Samsung as the foundry partner. With respect to the second rumor, we can provide our $.02 that we do expect to see this chip in future Apple devices (such as a possible phone or iPod) because that behavior would be consistent with what they have done in the past. As for the die shrink, the math tells us that the size reduction is more than a simple shrink – some functionality has changed too. We'll have to wait for the cross-section to see if it is fabbed on the smaller process.
Chipworks' Jim Morrison notes that it is unclear exactly what Apple's larger plans are for this chip, given that the Apple TV is not a high-enough volume product to justify creation of the new chip, so it is possible that Apple intends to use this A5 as a smaller, cheaper, and more power efficient chip for its rumored lower-cost iPhone or perhaps the next-generation of iPod touch. Apple made a similar move last year with the 32-nanometer A5, launching it in the Apple TV and a tweaked iPad 2 before rolling it out on a larger scale in the iPad mini and iPod touch later in the year.
Morrison also notes that, despite this new A5 being manufactured by Samsung, it could still be part of a pipe cleaner run to prepare for a move to TSMC, serving as a reference and fallback option for Apple as TSMC builds its own versions of it.
Also unclear is why Apple is not using a stacked DRAM design for this latest A5, although Silicon-IP's Kurt Wolf suggests that the company may simply still be lining up the process for building it with a package-on-package design. With the Apple TV having ample board space for the separate packages, Apple had little need to wait for a more compact stacked design.
Update 11:22 AM: Chipworks has now confirmed that the new A5 chip still uses the same 32-nanometer process seen on the previous generation, meaning that this nearly 50% smaller chip is truly a new device and not simply a shrink of the earlier design. Chipworks will have more information once it is able to obtain polysilicon die photos to view the layout of the chip.