iPad Mini Confirmed to Run 32-Nanometer A5 Chip from Samsung
While iFixit was busy tearing down the iPad mini earlier today, Chipworks was taking a closer look at the chips included in the device. The item of most interest is of course the A5 system-on-a-chip, and Chipworks has unsurprisingly confirmed that the iPad mini uses a chip manufactured by Samsung on a 32-nanometer process.
The A5 originally appeared based on a 45-nanometer process, but Apple quietly shifted to a smaller and more efficient 32-nanometer process earlier this year with the launch of the revised iPad 2 and the third-generation Apple TV back in April. The same chip made its way into the fifth-generation iPod touch last month, so it should not be a surprise that the A5 used in the iPad mini is the same part.
Remember the past, when Apple launched the Apple A5X to great fanfare? When the A5X launched, Apple also snuck in a change to the process generation in their A5 chip by putting a new 32 nm version inside the iPad2 and Apple TV3. Apple (likely) plays it this way because they don't want people evaluating their products based on "commodity" technical specifications, but based on the overall experience with the device.

Because of this past behavior, there has been some speculation on the web as to whether they would do the same thing with the latest generation of Apple A5 processor. A new process for a new product. Maybe even a new foundry partner?

The answer is no.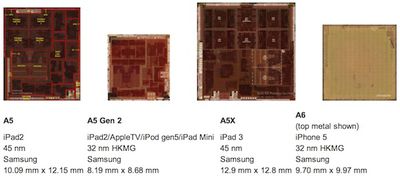 Cross-sections of the A5 chip from the iPad mini appear identical to those from other recent A5 chips, indicating that Samsung is indeed still the supplier for the main chip used in Apple's iOS devices. Apple's has been rumored to be trying to move chip production to TSMC, but the process has been a slow one as Apple seeks to strike a deal and ensure that technical considerations will not hinder the shift.