Apple's Suppliers Set New High in January With 99% Compliance Rate for Working Hour Limits
Early last year, Apple launched a new initiative to more openly share information on worker rights and safety throughout its supply chain with working hours and mandatory overtime being a major focus of the effort. Apple's code of conduct specifies that workers may generally work no more than 60 hours per week, although the company does permit limited exceptions during periods of high demand.
That pattern was observed over the course of 2012, with Apple's efforts to track over one million employees showing peak compliance with the standard at 97% in July and August before dropping in the September-Novemeber timeframe as Apple launched a number of new products including the iPhone 5 and iPad mini. Compliance rebounded in December, and Apple today updated its supplier responsibility pages to note that its supply chain achieved record 99% compliance in the month of January.
The number of workers we track has increased from over 500,000 in January 2012 to over 1 million in January 2013. In January 2013, we achieved 99% compliance to the 60-hour workweek across all employees we track.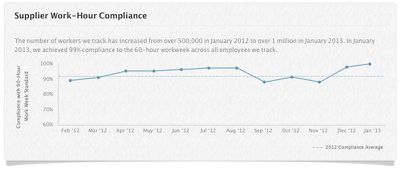 The improvement in compliance comes as Apple appears to be reaching supply-demand balance for a number of its latest products, including the iPad mini and iMac.
Reports have indicated that Apple's major assembly partner Foxconn has reduced its hiring due to a higher-than-usual number of employees returning to the company after the recent Chinese New Year break. Some have suggested that changes to working conditions spurred by Apple may be at least partly responsible for increased worker satisfaction and thus higher retention, although in some cases workers seeking to maximize their income have expressed concern over limits on their working hours.