Apple's New TV Effort May Kick Off This Fall with Focus on Third-Party Apps
TechCrunch's MG Siegler reports that Apple indeed appears to be moving closer to making a major push into television, perhaps leveraging the existing iOS-based Apple TV to pursue gaming as a focus point for the initiative.
Xbox founding engineer Nat Brown had noted earlier this week that he believes Apple could destroy the traditional console gaming business by opening up the Apple TV platform to third-party apps, and Valve founder Gabe Newell had expressed similar sentiments several weeks earlier.
But while Siegler has not heard any specific information about how Apple would open up the Apple TV to developers, multiple sources have informed him that something does appear to be brewing for later this year.
I haven't heard anything specific about the SDK, but the chatter about Apple's broader television plans has been picking up. And if that chatter is to believed, something is happening this fall — likely late fall. As always with Apple, those plans are subject to change (and, in fact, have changed a few times in the past — see: "Project Sphere"). As you might imagine, content deals remain a bitch, yet remain vital to such a project. But multiple sources suggest everything is finally lining up for this fall.
Siegler goes on to note that he does not know if the effort will include an actual television set at launch, but he argues that it doesn't really matter whether Apple does or not. The key is to bring apps to either the existing Apple TV concept or to new hardware, whether it be a new set-top box or integrated into a television set.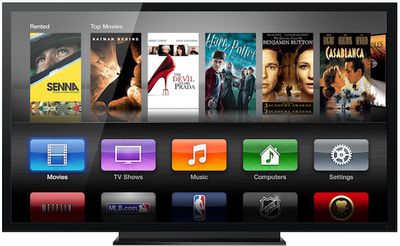 Siegler suggests that under this scenario Apple is likely to hold an event several months ahead of this projected late fall TV hardware launch, using the earlier event to introduce developer tools for the existing Apple TV, although whether that introduction might come mid-year at Apple's Worldwide Developers Conference or at a separate event is unknown.
Earlier this week, analyst Peter Misek claimed that Apple would be holding a television-related product event next month, but the rumor was quickly refuted by The Loop's Jim Dalrymple.