Apple Job Posting Hints at Siri for Macs in OS X 10.9
MacRumors has been seeing builds of OS X 10.9 in site logs since November, which is also when hints of Siri integration for Macs began appearing.
A recent Apple job posting (via TechCrunch / AppleInsider) reinforces the rumor that Siri might be bundled with the next version of OS X. In its listing for a Siri UI Engineer, Apple specifies that candidates should possess "Familiarity with Unix, especially Mac OS X" and a "Passion for the Macintosh platform and writing simple, elegant software that is easy and fun to use."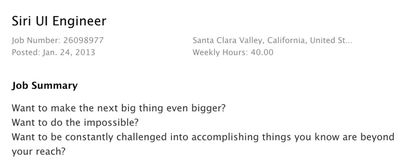 The listing, which does not include a specification for experience with iOS aside from knowledge of Apple's development APIs, states that the engineer will be in charge of implementing the content that appears within Siri's conversational view. The position will also require collaboration with other Siri teams.

This is a broad-ranging task - we take every application that Siri interacts with, distill it down to fundamentals, and implement that application's UI in a theme fitting with Siri. Consider it an entire miniature OS within the OS, and you get a good idea of the scope!

Of course, each of these little "snippets" corresponds to an individual application, so you will have extensive cross-functional work with many other teams. You'll need to work with them to enable access to their data and behaviors, and wire them up to your implementations. As a result, strong API design is needed to keep communications ideal.
As of mid-January, OS X 10.9 activity has increased considerably on MacRumors, suggesting the new operating system, with Siri included, may be imminent.
Job postings for Apple's iLife/iWork team also surfaced this week. iWork's last major update was in 2009, while iLife was last updated in 2010. An overhaul of the apps could potentially include Siri integration, allowing for voice commands for simple tasks such as photo and music editing.

Hits from systems running OS X 10.9 on MacRumors.com
Apple has been upgrading OS X on a yearly basis. 10.8 Mountain Lion was released in July of 2012, a year after 10.7 Lion was released in July of 2011. The first developer preview of OS X 10.8 appeared in February, and OS X 10.9 could follow a similar timeline.