Apple Continues to Hold More Than Half of U.S. Smartphone Sales
Research firm Kantar Worldpanel today issued a report indicating that Apple continued to maintain its position as the best-selling smartphone platform in the United States during the fourth quarter of 2012. Kantar Worldpanel, which releases its rolling quarterly data on a monthly basis, indicated that Apple retook the lead from Android in the August-October period and gathered a majority share for the first time in the September-November period.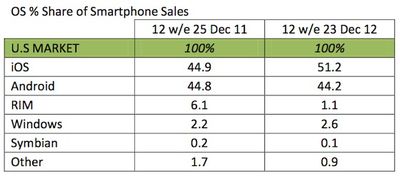 Looking at year-over-year comparisons, iOS increased its market share in the final quarter of 2012 to 51.2% from 44.9% in the same quarter the previous year. Android sales remained almost constant at just over 44%, with nearly all of Apple's gains coming at the expense of Research in Motion and other smaller players.
"Apple's continual improvement is thanks to both the iPhone 5 and older models attracting various customer groups, from repeat Apple buyers, first time smartphone buyers and those coming from other smartphone brands," said Kantar Worldpanel ComTech analyst Mary-Ann Parlato.
Kantar Worldpanel notes that 35% of Apple's sales during the period were to those upgrading from a previous iPhone, with 36% switching from a competitor platform and 30% upgrading from a feature phone to their first smartphone.
Kantar's data comes just as Verizon announced its results for the fourth quarter, revealing that the iPhone represented approximately 63% of the carrier's total smartphone activations.