Apple Sets New High with 53.3% of U.S. Smartphone Market, Android Holds Strong in Europe
Last month, research firm Kantar Worldpanel reported that Apple had retaken the lead in U.S. smartphone sales from Android over the August-October timeframe, topping Android by a 48.1%-46.7% margin on the strength of the iPhone 5 launch.
At the time, the firm suggested that Apple's share would continue to rise as the 12-week window of sales data shifted to include the iPhone 5 for its entirety, predicting that Apple would set a record high for market share within the following two periods.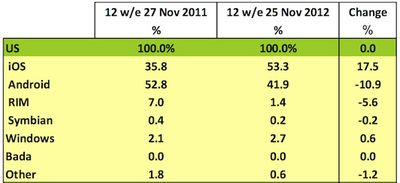 Kantar Worldpanel has now released its data for the September-November period, and Apple has indeed set a record high with 53.3% of the market. Apple's share is up dramatically from 35.8% in the same period last year, although the iPhone 4S did not launch until later in the corresponding timeframe.
Dominic Sunnebo, global consumer insight director at Kantar Worldpanel ComTech, comments: "Apple has reached a major milestone in the US by passing the 50% share mark for the first time, with further gains expected to be made during December."
Apple continues to fare less well in Europe, where even with growth of 2.5 percentage points year-over-year to reach 25.3% of the market, Android has surged farther ahead with a 9.2 percentage point gain and now holds 61% of the market.
Among the markets tracked by Kantar Worldpanel, Apple's best performance was in the United States, while its worst performances were in Brazil, Australia, Spain, and Italy, all countries where it lost share over 2011.