Apple Thunderbolt Display Supplies Begin Running Short at Third-Party Resellers
AppleInsider notes that inventories of the Apple Thunderbolt Display have begun running short at third-party resellers such as Amazon and MacMall, perhaps providing the first hints of an upcoming redesign. The display remains in stock at the company's online stores, but shortages tend to show up at third-party retailers first as Apple prioritizes shrinking supplies for its own outlets.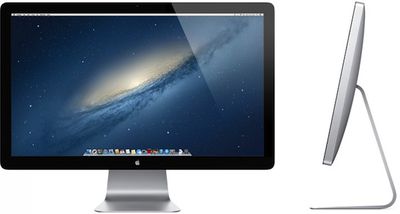 One of the most significant changes likely to make an appearance in a redesigned Apple Thunderbolt Display is the adoption of the thinner profile and new display assembly process seen in the company's latest iMac. The current Apple Thunderbolt Display borrows heavily from the previous generations of the 27-inch iMac, and thus it seems reasonable to assume that some of the iMac design changes such as new lamination procedures to make the display thinner and more vibrant will make their way to the standalone display.
But with that lamination process leading to shortages of the 27-inch displays used in the iMacs, an issue expected to persist until next month, Apple may hold off on introducing a new standalone display for the time being in order to prioritize the iMac.
Other changes likely to appear in an updated display are a move to USB 3.0 ports, which have become standard on Mac products, and the inclusion of a MagSafe 2 port for charging Mac notebooks. The current Apple Thunderbolt Display still uses the original MagSafe design for power passthrough, with Apple bundling a MagSafe to MagSafe 2 Converter to provide compatibility for owners of newer Mac notebooks.