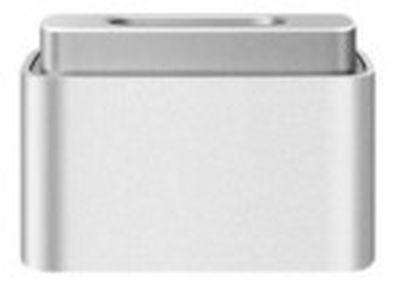 As we noted on Monday, Apple's new MacBook Air and Retina MacBook Pro use a new MagSafe 2 charging standard that is thinner and wider than the previous MagSafe. In order to assist people using the new machines with older equipment like chargers and displays, Apple released a small MagSafe to MagSafe 2 Converter for $9.99 to ensure continued compatibility.
Apple has not updated its Apple Thunderbolt Display with the new MagSafe 2 standard, but as mentioned on its online store page, the company is now including a free MagSafe to MagSafe 2 Converter with newly-purchased displays.


It certainly is not a tremendous cost for Apple to include a $9.99 adapter (which actually costs Apple significantly less) with a $999 purchase, but it is a convenient inclusion for new purchasers who otherwise might not realize that they need a converter. Those who are aware of the new MagSafe 2 standard should also be aware that they do not need to purchase a separate converter if they wish to purchase an Apple Thunderbolt Display.
(Thanks, Jordy!)