Apple Launching Larger, Low-Cost iPhone for Emerging Markets Late This Year?
Digitimes reports that Apple is planning to launch a new low-cost iPhone during the second half of this year, targeting emerging markets such as China with a new design and larger display.
Apple will roll out a low-cost version of the iPhone for China and other emerging markets in the second half of 2013, according to supply-chain sources.

Some sources claimed that they have seen the sample of the low-cost iPhone, which will come with a larger display, meeting the prevailing trend for the adoption of 5-inch displays for high-end models. They added that the low-priced iPhone will also have a brand new exterior design.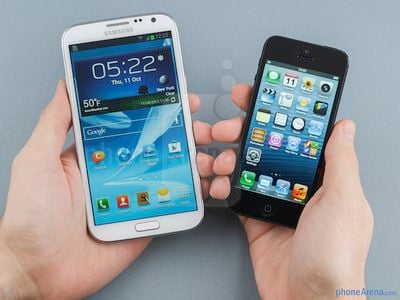 5.5-inch Samsung Galaxy Note II vs. iPhone 5 (Source: phoneArena.com)
Rumors of a low-cost iPhone for such markets have
circulated for years
, although they have generally focused on a smaller "iPhone nano".
Just last week, analyst Brian White claimed that Apple could be looking to launch multiple sizes of the next iPhone to address different markets. We did, however, note some of the obstacles to further increasing the iPhone's display size given that Apple has just gone through such a transition with the iPhone 5.