Apple's Best of the iTunes Store 2012: 'Action Movie FX' and 'Paper' Win Top App Honors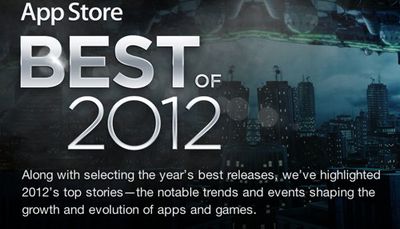 Apple today released the 2012 version of its annual iTunes Store awards, previously called iTunes Rewind, which celebrates the best music, movies, TV shows, apps, books, and podcasts of the year.
Here are some of the notable winners for 2012:
Apps:
-iPhone App of the Year: Action Movie FX
-iPhone Game of the Year: Rayman Jungle Run
-iPad App of the Year: Paper by FiftyThree
-iPad Game of the Year: Room
Music:
-Best Artist: Channel ORANGE by Frank Ocean
-Best Album: Shields by Grizzly Bear
-Best Song: We Are Young by Fun.
-Breakthrough Album: The Lumineers by The Lumineers
Books:
-Best Novel: The Dog Stars by Peter Heller
-Best Nonfiction: Behind the Beautiful Forevers by Katherine Boo
-Best Young Adult Novel: The Fault In Our Stars by John Green
-Best Multi-Touch Book: Fashion by DK Publishing
For the first time in two years, no photography apps made it in to the top listings. 2012 also marks the first year that an Entertainment app was given an editor's choice award. As always, during the end of the year wrap up Apple highlights games and apps from a wide variety of categories, so it's well worth skimming the list for hidden gems.
Beyond the top-level awards for music, movies, TV shows, apps, books, and podcasts, Apple is featuring a number of other awards and Editors' Choice picks across various genres and categories for the various content types.