Apple Rounds Up 'Top Sellers' and 'Best of' iTunes 2009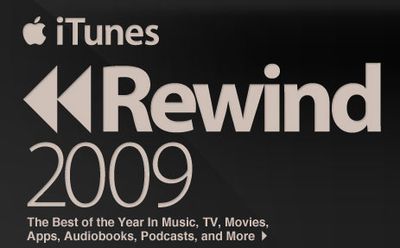 Apple has featured a new list of songs, TV shows, movies, audiobooks, podcasts and apps in what is being called the iTunes Rewind 2009. This list is a compilation of what they consider the "Best of 2009" in each category as well as a list of the top sellers for the year. Some of the top sellers include
Boom Boom Pow
(song),
Only By the Night by Kings of Leon
(album),
Twilight (2008)
(movie), and
Mad Men, Season 3
(TV season).
Of course, Apple also has a sizable App Store listing with a breakdown into traditional applications and games. Amongst the top selling apps were The Sims 3 and Mobile Navigator North America, while the best apps included Spider: The Secret of Bryce Manor and Reel Director.
The full list of items can be see in iTunes [link]. Exact items on the lists seem to be country specific.