'iTunes Rewind' Highlights the Best of 2010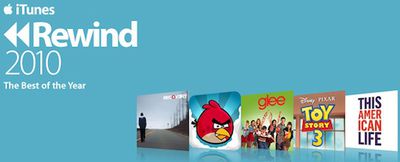 Earlier today, Apple released its
"iTunes Rewind 2010"
feature in the iTunes Store, offering a look at what the company has judged to be the best music, TV shows, apps, movies, audiobooks, and podcasts of 2010. An extension of Apple's weekly "Rewind" podcast, the feature offers best-of selections in numerous sub-categories within each type of media. Among the notable winners:
Apps
- iPhone App of the Year: Hipstamatic
- iPhone Game of the Year: Plants vs. Zombies
- iPad App of the Year: Flipboard
- iPad Game of the Year: Osmos for iPad
Music
- Artist of the Year: Eminem
- Album of the Year: "Brothers", The Black Keys
- Best New Artist: B.o.B.