'iTunes Rewind' Highlights the Best of 2011; Instagram, Tiny Tower Win Best of Year Awards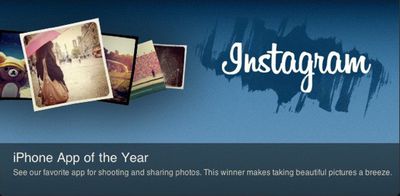 Apple has released the 2011 edition of its annual iTunes Rewind feature in the iTunes Store. The piece offers a look at what the company has judged to be the best music, movies, TV shows, apps, books, and podcasts of 2011.
Some of the notable winners:
Apps:
- iPhone App of the Year: Instagram
- iPhone Game of the Year: Tiny Tower
- iPad App of the Year: Snapseed
- iPad Game of the Year: Dead Space for iPad
Music:
- Song of the Year: Pumped Up Kicks by Foster the People
- Artist of the Year: Adele
- Album of the Year: Wasting Light by Foo Fighters
Books:
- Best Novel: The Tiger's Wife by Téa Obeht
- Best Nonfiction: Boomerang by Michael Lewis
It's important to note that these awards are all for the United States iTunes Store. In some cases, Apple gave awards to different items in different countries. For example, Djay was awarded iPad App of the Year honors in the UK, while Tiny Wings won iPhone Game of the Year in the UK and Australia.
Instagram isn't the first photography app to win App of the Year award. In 2010, Hipstamatic took home App of the Year honors. Plants vs. Zombies won the Game of the Year award that year.