iTunes Music Store Going Live in Russia and Turkey
In line with reports of an Apple media event in Moscow tomorrow where the company has been rumored to be officially introducing the iTunes Music Store for Russia, it now appears that the store has started to go live in both Russia and Turkey.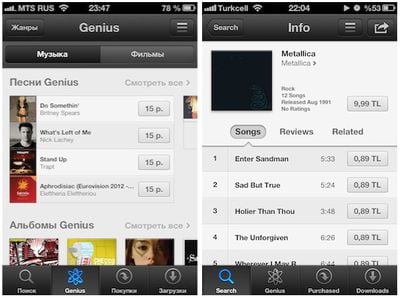 iTunes Music Store live in Russia (left) and Turkey (right)
With the iPhone 5 set to
launch in both countries
on December 14, Apple also looks to be interested in expanding its hardware and content sales in the countries in a variety of ways. Apple is
already hiring
for future retail stores in Turkey, and the company has reportedly been looking to
begin direct sales
in Russia, bypassing distributors and potentially looking at opening its own retail stores in the country in the future.