Apple Again Recognizes World AIDS Day Online and In-Store
Apple, not known for its partnerships with third-parties, is again recognizing December 1st as World AIDS Day at Apple Retail Stores and on its website. Apple did something similar last year.
Some stores, including several locations in New York City, have also colored their Apple logos red for the occasion. A MacRumors reader sent in this image from the Upper West Side outlet and noted that retail store staffers appear to have replaced the cases on all the products in the store with PRODUCT (RED) versions.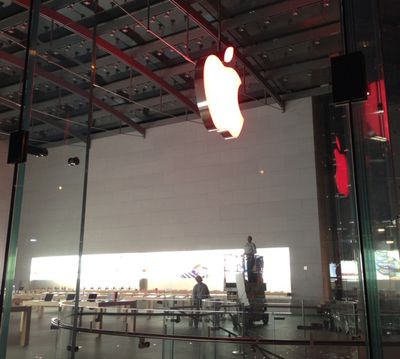 Apple sells a number of PRODUCT (RED) items where a percentage of the profits are donated to the Global Fund to fight AIDS in Africa. There are (RED) versions of the iPod shuffle, iPod nano, iPod touch, the iPad and iPad mini Smart Covers, the iPad Smart Case, and the iPhone 4S Bumper.
The numbers don't lie: Every day more than 900 babies are born with HIV. By 2015 that number can be nearly zero. (RED) works with companies like Apple to fight for an AIDS-free generation by 2015 by creating (PRODUCT) RED merchandise. A percentage of gross profits from the sale of those products goes to the Global Fund to help fund AIDS programs in Africa. Since its introduction, (PRODUCT) RED has generated more than $190 million — more than $50 million from Apple alone — for the Global Fund. Now you can make an impact, too, by purchasing a (PRODUCT) RED iPod shuffle, iPod nano, iPod touch, iPad Smart Cover, iPad Smart Case, or iPhone Bumper.
In addition to the retail store changes, Apple is placing a prominent link on the bottom of its homepage to (RED)'s World AIDS Day page.
Thanks Mark!