Apple Recognizes World AIDS Day Online and In-Store
Apple, not known for its partnerships with third-parties, is recognizing December 1st as World AIDS Day on its website and within the Apple Retail Stores.
Apple currently sells two items associated with Bono's PRODUCT (RED) charity, a red iPod Nano and a red Smart Cover, both sold exclusively on the Apple Online Store and in the Apple Retail Store. Apple gives a portion of the purchase price of these specially branded items to the Global Fund to fight AIDS in Africa.
IFOAppleStore reports that today in the retail stores:

a select group of Specialists will be wearing and promoting the (RED) iPod nano, with a portion of the $129/$149 price going to the Global Fund to fight AIDS in Africa. Also, managers and store greeters who normally carry iPads for work will have (RED) Smart Covers protecting the devices. On the product shelves, signs will promote the Beats by Dr. Dre Solo HD Headphones that are also part of the (RED) product line. There is also a special (RED) iTunes gift card available in the stores.
Some stores, including the Regent Street location in London, have also colored their Apple logos red for the occasion: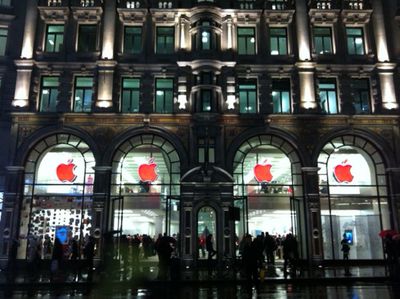 In addition to its retail store efforts, Apple has put a prominent link on the bottom left of its homepage to (RED)'s 2015quilt.com.
Thanks to Sam for the Regent Street photo.