Apple Removes UK Website Statement Regarding Galaxy Tab Design, Publishes Newspaper Acknowledgement
Yesterday, we reported that Apple had been ordered a UK court to alter its published statement on its website acknowledging that the Samsung Galaxy Tab does not infringe upon the protected design of the iPad. The statement was required by an earlier court order, but Apple's version of the included additional content, playfully quoting statements from the judge's ruling saying that the Samsung Galaxy Tab was "not as cool" as the iPad and noting that it had won cases against Samsung in other jurisdictions.
The judges were clearly unhappy with Apple's version of the notice and ordered the company to alter it within 48 hours, while Apple argued that it would take up to two weeks to revise and post the notice. As noted by TechCrunch, Apple has already removed its version of the notice from its UK website, but has yet to publish a revised version satisfying the court's demands.
The Next Web also reports that the first of Apple's newspaper advertisements similarly required by the court has appeared in The Guardian today.
In this morning's Guardian, Apple has taken out a small advertisement, including the same statement that it ran on its website, but minus the additional commentary that originally got the company into trouble. It also appears to have been printed in 14-pt Arial font, as required in the original ruling.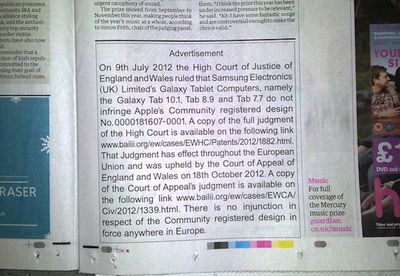 Photo by Tim Acheson