Early Impressions and Benchmarks on Apple's 2012 Mac Mini
Colocation data center Macminicolo has already gotten its hands on the new Mac mini, putting all three stock models through benchmarking tests and sharing initial impressions of the machines.
Geekbench results, which focus strictly on processor and memory performance, show a marginal increase in performance for the entry-level machine compared to the previous generation, with more substantial gains coming in the higher-end models tapping into quad-core Ivy Bridge processors. Early impressions of the latest models include:
- Don't look now, but the new Mac minis are getting comparable to the last gen Xserve and 2010 Mac Pros as far as benchmarks. Tech progress marches on.
- All Mac minis now come standard with 4GB of RAM. Thank goodness. As of last week, the base Mac mini had 2GB of RAM and that was brutal with Mountain Lion.
- The Mac mini can officially be upgraded to 16GB now. It's been possible for over a year, but it had to be done after ordering. Now, Apple offers the 16GB of RAM.
- The base mini is still i5, but the middle and high end minis are quad core i7 Ivy Bridge processors. That middle mini is the most interesting. Many customers prefer the quad core for things like an Xcode build server or for plenty of cores to spread between virtual machines. That $799 Mac mini is going to be very popular.
- The machines now come with 1600MHz DDR3 Memory. Seriously, 16GB of 1600MHz RAM in such a small machine. It's really quite amazing.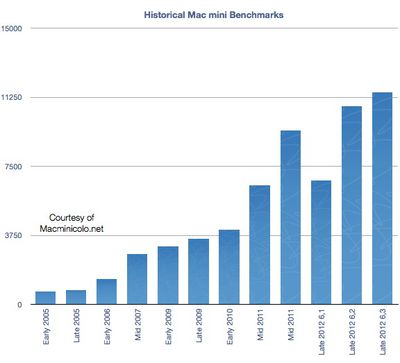 Another colocation center, Mac Mini Vault, has also taken a look at the new Mac mini, noting that their machine arrived running a custom Build 12B2080 of OS X 10.8.1. The company also performed a quick teardown of the machine, noting that Apple has tweaked the fan design since last year's model and also made some changes to the wireless antennas.