New Mac Mini Benchmarks Show Significant Performance Gains
Just like early reports on the new MacBook Air released yesterday, the new Mac mini is also showing significant improvements in raw performance over its predecessor machines. Mac mini web hosting company Macminicolo.net has obtained both standard and server models of the new line and put them through some preliminary benchmarking using Geekbench.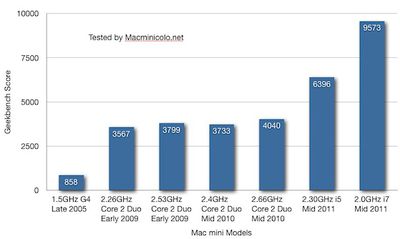 The testing reveals significant performance improvements for the Mac mini, with the entry-level 2.3 GHz Core i5 model showing an over 50% jump in Geekbench scoring over earlier generations and the 2.0 GHz Core i7 server model showing even more impressive results with its Geekbench score coming in at well over double that of its predecessor.
As we noted on yesterday's MacBook Air report, Geekbench focuses on raw processor and memory performance, and real-world performance will also depend on other aspects of a system including graphics capabilities and data storage components.


The report also offers a few unboxing photos and some shots of the initial setup process in which the Mac mini server model offers to migrate from an existing server setup. Also noted is the fact that the server edition includes iLife apps, as the server portion of Lion is simply an add-on for the basic OS X Lion. Under Mac OS X Snow Leopard, iLife apps were not included on server machines.