Hands-On Video with 'iPad Mini' Physical Mockup
Physical mockups of Apple's rumored "iPad mini", presumably based on leaked design specs from case manufacturers, have appeared with increasing frequency in recent weeks, and Gizchina.com has now obtained one of the dummy units to share new photos and a video giving an impression of how the device might look and feel. The dummy units are widely available through Chinese online marketplace Taobao for roughly $15.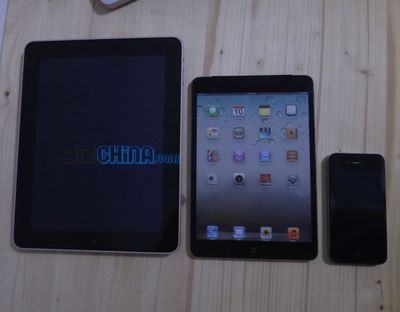 Similar mockups in both white and black have appeared over the past several weeks showing the rumored thin side bezel design that would make the device more comfortable to hold in one hand than a uniform bezel such as that seen on the full-size iPad. The video also offers a good overview of the external features of the device.
Apple is expected to introduce the iPad mini at an
October media event
once the publicity from the iPhone 5 launch begins to subside.