Live Coverage of Apple's iPhone 5 Media Event [Event Over]
Apple is holding a media event today at the Yerba Buena Center for the Arts in San Francisco, where it appears set to introduce the iPhone 5, updated iPods, and a brand-new version of iTunes. The event is scheduled to kick off at 10:00 AM Pacific Time / 1:00 PM Eastern Time.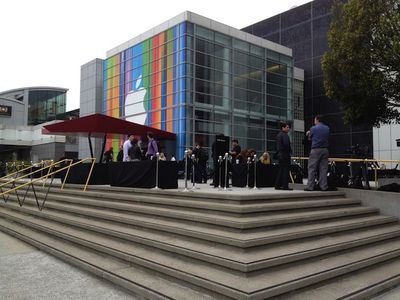 Media line forming at iPhone 5 event (Source: Josh Lowensohn/CNET)
Apple will apparently not be providing live video coverage of the event to the public, but a number of news sites will be on hand to provide text and photo updates, and we're including links to several of them here. We will also be updating this article with coverage and issuing Twitter updates through our
@MacRumorsLive
account as the media event unfolds. Separate news stories regarding the event announcements will go out through our
@MacRumors
account.
- Engadget
- Ars Technica
- The Verge
- The Loop
- gdgt
- Macworld
- AllThingsD
- CNET
- SlashGear
- AnandTech
Apple's online stores around the world are currently down in advance of the event.
Recent News and Rumors
- iPhone 5 Logic Board Shows A6 Chip, Qualcomm MDM9615M LTE Modem, Hynix Flash
- Updated iTunes, iPod Touch, and iPod Nano Coming Alongside iPhone 5 Today
- 'iPhone 5' Name Prematurely Revealed on Apple's Site
- Apple's New iOS Device Marketing: 'Lightning' Dock Connector, 'Earpod' Headphones, 'Loop' Accessory
- 'Biggest Upgrade Ever' for iPod Touch to Bring New Colors, GPS, Camera Improvements?
Live Transcript

The event is about to begin.
Tim Cook has come on stage. "Good morning."
"Thank you for coming this morning! We've got some really cool stuff to show you."
Updates about Apple Retail first.
Apple spent two years building the new Barcelona store. Cook is showing a promotional video from the store's opening.
380 stores in 12 countries, with the first Swedish store opening on Friday. 83 million visitors in last fiscal quarter.
On to the Mac.
Apple has sold 7 million copies of Mountain Lion, making it the fastest-selling version of OS X ever. Cook praises the MacBook Pro, calling it "the best Mac we've ever made."
"Together with MacBook Air, our notebooks rank #1 in U.S. in marketshare over the last 3 months", capturing 27% of the market.
Now, to the iPad.
"The iPad is driving the post-PC revolution at a breathtaking pace." "We sold more iPads [last quarter, 17 million] than any PC manufacturer sold of their entire PC line." 84 million iPads total, through June. "Shocking when you think this is a category that didn't exist two and a half years ago."
iPad had 62% market share in 2011, and now has 68%, even with competitors launching many new tablets. The iPad makes up 91% of all web traffic from tablets.
Nearly all of Fortune 500 are testing or deploying iPad, and many are creating custom apps.
Cook says that there are more than 700,000 apps on the App Store, with more than 250,000 specifically for iPad. The average user is using more than 100 apps, and 90% of apps on the App Store are downloaded monthly.
More than 400 million iOS devices sold through June 2012.
"Some very exciting news to tell you about iPhone." Phil Schiller is on stage.
First launched the iPhone in 2007 and it was a breakthrough for the entire industry. Time magazine called the iPhone "the phone that's changed phones forever."
"We're gonna do that again today."
"Today we're introducing iPhone 5."
"It's the most beautiful product we've ever made."
It looks very similar to the leaked images, the phone with the metal back.
"It is made entirely of glass and aluminum. It's designed and built to an exacting level of standard unlike anything we, or anyone in our industry, have made before."

6.7mm thin, 18% thinner. The world's thinnest smartphone.
Weighs 112 grams, 20% lighter than the iPhone 4S.
"The challenge is to make it better and smaller."
4-inch display, 1136x640.
Five rows of icons, plus the shortcut row on the bottom.
Phone was made taller because the width is designed to fit the hand perfectly.
"As you carry your phone, it should fit beautifully in your hand."
"All our software has been updated." Keynote, Pages, Numbers, iPhoto, iMovie, GarageBand.
"You can see a full, five day workweek."
Old apps run letterboxes, with pixel-perfect rendering. Black borders on either side so the display remains centered. A few developers received a sneak peek, and debs have said they can update their apps "very quickly."
Screen is nearly 16:9, with 44% better color saturation. Display is better, with touch integrated into the display, so it's thinner, sharper, and has less glare. "We couldn't be prouder of it."
Apple has added new wireless tech, including LTE and DC-HSDPA. Apple says it took "a lot of incredible engineering." Apple is using a single chip for voice and data, and a single radio chip.
In the US: Sprint, AT&T and Verizon will support LTE.
Canada: Rogers, Telus, Bell, Fido, Virgin.
After the event, Apple will publish a full list of supported carriers.
The iPhone 5 supports dual-channel 5GHz 802.11n, allowing for max performance up to 150Mbps.
"We've updated every aspect of iPhone 5."

Image courtesy Apple
The new A6 chip is 2x faster and has 2x the graphics performance compared to the A5. It's 22% smaller and more energy efficient.
EA Studios is coming out to demo Real Racing 3. The game is scheduled for release later this year.
Regarding battery life, Shiller says the iPhone 5 will exceed the battery life of the iPhone 4S.
8 hours of LTE browsing, 10 hours of video, 40 hours of music, 225 hours of standby, 8 hours 3G talk time.
The new camera has an 8 megapixel camera with backside illumination, a hybrid IR filter and a five-element lens. f/2.4 aperture. 25% smaller, dynamic low light mode, precision lens alignment, sapphire crystal. The camera evaluates nearby pixels to give up to 2 f-stops greater low-light performance, along with new image processing in the A6.
40% faster on photo capture.
Adding Panorama mode. Sweep the scene vertically to get best resolution. Showing a 28 megapixel image of the Golden Gate Bridge. "Creates seamless transitions between photos."
Video is 1080p but with better video stabilization.
The front-facing camera is now 720p, backside illuminated with facial recognition.
The iPhone 5 has three microphones, one on the bottom, another on the front, and one on the back. Improved voice recognition and cancellation.
The phone has an improved speaker design, and is 20% smaller, and with a five-magnet transducer -- three more magnets than previously. Additional magnets make the speaker more efficient -- more volume for less power. Apple is calling it "wideband audio".
Next, the connector:
"So many of the things we used to do over the wire, we now do wirelessly." The 30 pin dock connector goes back 9 years. "It's served us well for almost a decade."
New connector called "Lightning".
All-digital, 8-signal design. Adaptive interface, improved durability, reversible, 80% smaller.
Bose, JBL, B&W, B&O and others are already working on the new connector.
Apple creating a "bunch of accessories" to hook up to old equipment.
That's the iPhone 5.
iOS 6 up next.
"Perhaps one of the most important features of the iPhone is the software it runs. And we have iOS 6. It's been designed from the beginning to take advantage of the iPhone 5."
Scott Forstall is out for a demo.
This is stuff we have seen before -- Maps with Yelp and Siri integration, flyover, satellite views, etc.
Now showing off Safari. "It looks great on this display." Offering a new fullscreen mode. Showing iCloud tabs.
Demoing Passbook, coupons, movie and airplane tickets.
Demoing Shared Photo Stream.
Now, the new version of Siri with sports scores, standings, and more.
"Can you recommend a good movie in theaters?" Siri: "That is a very subjective question. Here's what others have found to be good movies." Showing Rotten Tomato rankings. Asking for restaurant reservations delivers you to OpenTable. Updates to Facebook via Siri.
"We think you're going to love it."
Now Phil Schiller has returned to the stage.
Comes in two colors, black or white front. "The thinnest and lightest phone we've ever made." White version has a raw aluminum back, while the black version has an anodized back.
Now showing the promotional video after running down the specs again.
Jony Ive in the video: "With this unique relationship with your iPhone, we take changing it very seriously."
Bob Mansfield: "It took an incredible cross-collaborative effort" to make the phone thinner.
Video is giving more details on the Lightning connector, sapphire lens on the camera, touts LTE as potentially faster than home Wi-Fi connectors.
The video goes through the special manufacturing process used to make the phone. The video should be posted on Apple's website soon after the event is finished.
Phil is back as the video ends.
Same pricing as iPhone 4S.
$199 for 16GB, $299/32GB, $399/64GB (with two year contract).
iPhone 4S is $99, iPhone 4 is free with contract.
Preorders start on Friday, shipping one week later.
Launching on the 21st in the US, Canada, UK, France, Germany, Australia, Japan, Hong Kong and Singapore. Launching on the 28th in 22 other countries.
iOS 6 arrives next Wednesday the 19th for the iPhone 5, 4S, 4, 3GS, new iPad, iPad 2 and 4th generation iPod Touch.
Tim Cook is back on stage to talk about "something near and dear to our hearts". Music.
"Music is in our DNA."
"Some exciting changes with both iPod and iTunes."
Eddy Cue is on stage now.
26 million songs on iTunes Store, with 20 billion songs purchased in past 9 years. Now available in 63 countries. 435 million iTunes accounts. More than two-thirds of downloads are coming directly from iOS devices.
Apple has built a new iTunes Store for iPhone and iPad. Redesigning App Store too. New store apps arriving with iOS 6 on the 19th.
Redoing iTunes for Mac and PC as well. 200 million people using iTunes in the Cloud, 15 billion pieces of content served directly from the cloud.
New iTunes is "dramatically simpler". Now he's demoing it.

Click on any album and it expands to show more information, clearly influenced by iOS.
Artists have the ability to share photos with their listeners, showing that some parts of Ping haven't disappeared entirely. Allows users to split screen playlists and the full library, making playlist creation easier.
The changes aren't radical, but streamline and polish everything. There is a new 'Play Next' button to force the next song as a particular choice, without stopping the current song.
Now, movies in iTunes. "We've built iCloud right into iTunes." Syncs movie positions from device to device. Demo's a movie that was paused on the iPad, then resumed on the Mac.
Similar experience on the App Store in iTunes for the Mac as on the mobile device.
The new iTunes will be available in late October.
Greg Joswiak is now talking iPods, of which Apple has sold more than 350 million over the years.
"iPod and music are part of the DNA of the company."
We wanted to take the chance to reinvent the Nano. We thought, "what elements do we want to add?"
"We wanted to give it a really large display. We want it to have really easy to use controls. We want to make it thin and light." Of course, they add the Lightning port to it as well.
The Seventh Generation Nano looks a bit like the original Nano. 50% thinner than the Nano it replaces. Wider screen, 5.4mm thin, 2.5" display that's MultiTouch, with a home button. Seven colors: aluminum, black, purple, green, blue, yellow and red.


Includes FM tuner with DVR, fitness and pedometer, view video and photos. Bluetooth with wireless audio streaming, so supports Bluetooth headphones and car integration.
Promises 30 hours of music playback, the longest of any Nano.
iPod Touch is next up.
175,000 games, 150 million players in Game Center. Apple is going after mobile gaming hard with the Touch.
New iPod Touch is 6.1mm thin, 88 grams. The lightest Touch they've made. "Almost as thin as the nano, but it's a touch!"
Aluminum on the back with a brushed finish. Speaker on the bottom plus Lightning connector. Has iPhone 5 4" display.
Apple touting the great screen, perfect for games and video. Includes the A5 processor, and 7x faster graphics than the old touch.
Now they are demoing the game "Clumsy Ninja".
Regarding battery life, Apple promises 40 hours of music playback, 8 hours of video, slightly increased over the 4th generation Touch. The camera is much improved, with a 5-megapixel, backside illuminated, f/2.4, 5-element lens, plus the same sapphire crystal lens cover as the iPhone 5. Includes support for the new Panorama feature, as well as support for the iOS version of iPhoto.
Also includes a 720p front-facing FaceTime camera, with 1080p video on the back side. AirPlay Mirroring supported.
There is a hidden feature on the back of the new iPod Touch, called the Loop. It's designed to hook to a wrist-strap for added security when taking pictures or walking about. Included with the iPod Touch. Will be great for kids.
Includes Bluetooth 4.0, 802.11 b/g/n dual-band, and other typical wireless. No LTE or cellular for the Touch.
It does include Siri, however.
Comes in five colors, raw aluminum, black, blue, yellow and red.
The iPod Shuffle is gaining a different color selection.
"We want to turn our attention to something different, and that's speakers."
600 million sets of Apple earbuds have been shipped -- more than 1.2 billion "little speakers".
Now offering new headphones, called EarPods. "Doing a great headphone is hard, because ears are really, really challenging because everyone's ears are different."
In the works for three years. Includes in-line microphone and controls. "Look like no earphone you've ever seen before."
Has a directed speaker port that points forward into the ear canal. Doesn't create a seal the way other in-ear headphones do. A port in the back for mid-range, one in the stem, and the main port pointing to the ear canal. All to maximize airflow for sound quality.
A standalone accessory, shipping today -- but included with the new Touch, Nano, and the iPhone 5.
iPod Shuffle remains $49.
iPod Nano is $149 for 16GB.
4th Gen iPod Touch still sold, 16GB/$199, 32GB/$249.
5th Gen iPod Touch is 32GB/$299, 64GB/$399.
New nano and touch available in October.
(Product) RED models available for each model.
Tim Cook is back on stage now, showing off a new television ad for the new lineup of iPods. "A whole new lineup of all-new music players."
"We are very excited about all the products we've launched today."
He's going over all the new products announced today. iPhone 5, new iPods, iOS 6, new iTunes.
"When you look at each of these, they are incredible industry-leading innovations by themselves. But what sets them apart, and what sets us so far ahead of the competition, is how they work together.
"Only Apple could integrate these services and bring them together. Apple has never been stronger and that is thanks to the dedication and creativity of our employees throughout the world.
"They are doing the best work of their lives, because delivering revolutionary products is making a real difference in people's lives."
The Foo Fighters are taking the stage as a musical guest.