Apple Hits New Highs as Tim Cook Celebrates One Year as CEO
One year ago today, Steve Jobs stepped down from the CEO post he held for more than a decade, making Tim Cook the head of what is now the most valuable publicly-traded company in the world. After the announcement, Apple's stock dropped more than 5% in after hours to $351.
One year later, Apple is the most valuable publicly-traded company ever (not accounting for inflation) with a current share price of $668, gaining more than 75% year-over-year. With Cook in charge, Apple has recorded its three best quarters ever; released the iPhone 4S, the new iPad, the Retina MacBook Pro, Mountain Lion; and previewed the next version of iOS.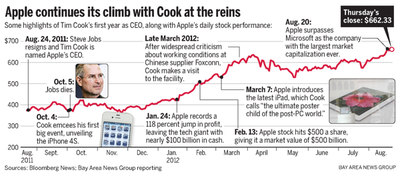 The San Jose Mercury News writes of Cook's first year, accompanied by the above chart:
"Tim knows he's not Steve Jobs and doesn't try to be," says Jeffrey Sonnenfeld, a senior associate dean at the Yale School of Management. "He's comfortable in his own skin, and he's done a remarkable job of under-promising and over-delivering. When Jobs walked out the door last year, a lot of people figured much of Apple's magic would disappear. It hasn't."

Cook, whom Apple did not make available for this story, inherited much of that Jobs-induced magic, from Apple's wildly successful iPhone and iPad to its burgeoning network of stores stuffed to the gills with the gadget-hungry masses. Yet many analysts say it is Cook's trademark mastery of supply-chain efficiency, first tapped when Jobs hired him 14 years ago to run the manufacturing side of the business, that leaves the 51-year-old workaholic and fitness buff poised to take Apple to ever greater heights.
Cook has also made some significant changes at the company, though Jobs was certainly aware of some of them. He expanded Apple's charitable giving, initiated a dividend and share repurchase program, as well as throwing open the proverbial doors to its contracted factories with a thorough inspection by the Fair Labor Association.
The company has also been more responsive to criticism, reinstating support for the EPEAT environmental registry with a very public letter from Senior Vice President Bob Mansfield. More recently, Apple reversed changes in scheduling at Apple Retail Stores after coverage in the press and from within Apple Retail's own ranks.
The upcoming holiday quarter should again be Apple's strongest ever, with rumored upcoming announcements of the next-generation iPhone, a smaller iPad, a 13" Retina MacBook Pro, as well as continued rumors about an Apple television or set-top box.