Apple Becomes Most Valuable Publicly-Traded Stock Ever
Milestones for Apple's stock are falling rapidly in recent days, with another strong performance today pushing Apple past Microsoft for the title of most valuable publicly-trade stock ever, a distinction Microsoft has held since December 1999.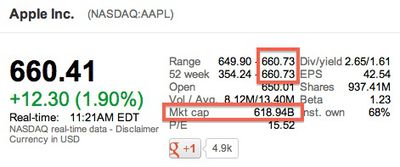 Microsoft's market capitalization peaked on December 30, 1999, reaching an intraday high of $119.94 per share. With Microsoft having documented 5,160,024,593 outstanding shares as of October 31, 1999 in its quarterly earnings report, the company would have had a market capitalization of $618.89 billion on December 30.
Apple's most recent quarterly filing listed 937,406,000 outstanding shares as of July 13, 2012, and with the company's stock price hitting $660.73 today, its market capitalization reached $619.37 billion.
While Apple now holds the all-time market capitalization record in terms of raw numbers, accounting for inflation would still allow Microsoft to retain the title by a fairly wide margin. In inflation-adjusted terms, Microsoft's $618.89 market capitalization in December 1999 would be equivalent to roughly $842.5 billion in today's dollars.
Apple's market capitalization title is also subject to several other caveats, perhaps most notably being PetroChina's trillion dollar market cap it achieved when it launched for trading on the Shanghai stock exchange in 2007. That figure comes with its own qualifications, however, as PetroChina is a government-dominated firm that saw only 2% of its shares being made available on the Shanghai exchange. Trading in PetroChina shares on the Hong Kong exchange and American depositary receipts on the New York Stock Exchange never supported the trillion dollar valuation the company received on the Shanghai exchange.
Update: Apple's stock closed at $665.15 today, giving the company a market capitalization of $623.5 billion.