Apple to Ramp Up 7.85″ iPad Mini Production in September?
Digitimes reports that the long-rumored 7.85" iPad will begin volume production in September with a target of 4 million units per month.
Supply volume of Apple's 7.85-inch iPad is estimated to reach four million units per month starting in September in order to prepare for demand from year-end holidays, according to sources from the upstream supply chain.
The goal is said to launch the new device before the 2012 holiday season.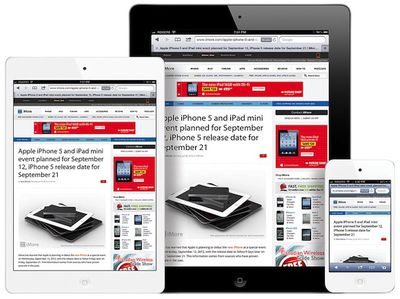 iPad Mini mockup (left) by
iMore
The timing is consistent with
previous rumors
that Apple would be ramping production in September.
iMore
reported
back in May that Apple was targetting an October launch for the smaller iPad with a target price in the $200-$250 range.
iMore
also
lumped in
the iPad Mini to be announced alongside the next iPhone on the rumored September 12th media event.
The September 12th date seems certain for an Apple media event as it has been verified by a number of publications. Apple has yet to officially announce an event, however.
While a number of part leaks have already revealed what to expect in the next iPhone, iPad mini parts have been quite scarce. This seemingly late ramp up in production may have been intentionally timed by Apple to correspond with their launch media event in order to prevent as many leaks for this new device.