Next-Generation iPhone Dock/Headphone Jack Assembly Paired with Rear Shell
Following up on last week's photos of iPad mini and next-generation iPhone parts including Apple's new, smaller dock connector and the bottom-mounted headphone jack, parts and repair firm iResQ has taken the iPhone part and placed it in a rear shell obtained from a separate source.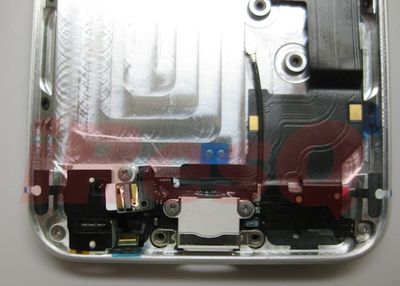 The two parts fit together extremely well, with screw holes and components lining up perfectly. While the fit is not conclusive evidence of the legitimacy of these parts, it does provide additional confidence that they are intended to be used together. The photos also provide a better idea of what the next iPhone will look like when viewed from the bottom, with the significantly smaller dock connector making room for the headphone jack and a larger speaker grille along the bottom edge of the device.

Next-generation iPhone (left) compared to iPhone 4S (right)
A number of parts claimed to be for the next-generation iPhone have already leaked, giving a good idea of what the device with its taller 4-inch display will look like. One of the key parts observers have been waiting for is the device's logic board, and while
photos of one did leak
earlier this month, most of the details were obscured by shielding on the part.
Apple is expected to introduce the next-generation iPhone on September 12, with the "iPad mini" potentially seeing an introduction on the same date, although some sources have speculated that Apple will wait to introduce the smaller iPad at a later date.