AT&T's 'Mobile Share' Service Plans Launching August 23
Last month, AT&T announced that it would join Verizon in offering shared data plans including unlimited talk and text on phone while allowing users to share their monthly data allotments across multiple devices. The plans are structured with two basic components: a monthly cost for a data allotment and a per-device charge that varies from $10 to $45 depending on the type of device and the data plan selected.
AT&T has just announced that the new plans will be launching on August 23, and while current users will not have to switch to the new plans, they may do so without adding on to their contract term. And unlike Verizon, AT&T will continue to offer its existing plans alongside the new Mobile Share plans, giving users several options to help fit their device and service needs.
AT&T's new Mobile Share plans do include tethering and mobile hotspot functionality on compatible devices, while also offering free access to over 30,000 AT&T Wi-Fi hotspots around the country.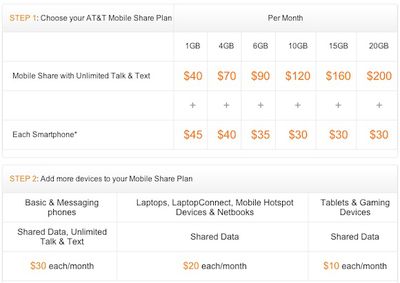 Full details on the new plans are available on AT&T's website.