AT&T to Begin Offering Shared Data Plans in Late August
Following Verizon's move to shared data plans last month, AT&T announced its own shift scheduled for late August. The new system offers a similar setup to Verizon's, with all plans including unlimited talk and text and monthly service pricing being based simply on the total data allotment and number and type of devices being used.
With AT&T Mobile Share plans, customers start by choosing how much data they want each month, then choose up to 10 devices to attach to their shared plan, one of which must be a smartphone. Each plan includes tethering and unlimited domestic calls and texts for smartphones and basic or quick messaging phones. The larger the data bucket you choose, the less you pay per gigabyte and the less you pay for each smartphone added to the shared plan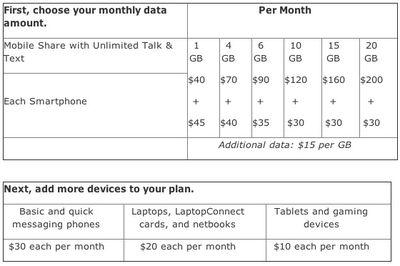 One wrinkle for AT&T's plans is a decreasing monthly smartphone device access cost as customers step up to higher data plans. While Verizon charges a flat $40 per month per smartphone, AT&T's starts at $45 for customers using just 1 GB of data but decreases to as low as $30 for accounts with 10 GB of data or more per month. Access costs for other devices are the same between AT&T and Verizon, with feature phones requiring a flat fee of $30 per month, laptop connections $20, and tablets $10.
AT&T undercuts Verizon at the simplest level with a single smartphone on a 1 GB data plan costing $85 per month ($40 data + $45 device), compared to $90 on Verizon ($50 data + $40 device), but adding additional smartphones to that 1 GB plan is more expensive on AT&T ($45 versus $40). Verizon's and AT&T's pricing are identical at the 4 GB level, while AT&T again takes the lead on higher-level plans with more data and devices. As an example, an account with four smartphones sharing 10 GB of data would cost $240 per month on AT&T ($120 data + 4 x $30 devices) versus $260 on Verizon ($100 data + 4 x $40 devices).
AT&T is launching its new plans as of "late August", and current customers will not be required to switch to shared data, although they may do so without extending the length of their contracts. New customers will have the option of selecting from the new shared data plans or the carrier's existing individual or family plans.