Apple Seeds iOS 6 Beta 4 to Developers
We're receiving numerous report that Apple today released the fourth beta of iOS 6, the company's next-generation mobile operating system set to launch "this fall", presumably alongside new iPhone hardware with an official announcement at Apple's September 12 media event.
As with previous builds, the new one is arriving as an over-the-air update first, and it is generating some confusion since it is labeled as "beta 3" despite being offered to users who already have the third beta installed on their devices.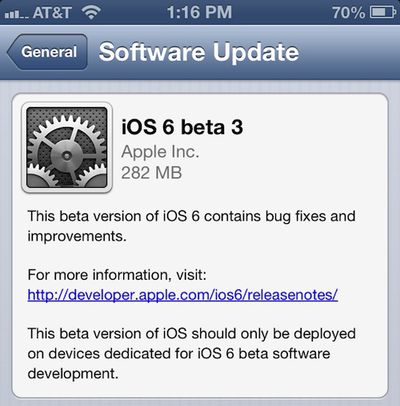 iOS 6 Beta 4 over-the-air update incorrectly labeled as Beta 3
The fourth beta, which reportedly
arrives as Build 10A5376e
, comes three weeks after the
previous developer version
of Build 10A5355d.
We'll update this post with additional information on the new release as it surfaces.
Update: iOS 6 Beta 4 is now showing up in Apple's iOS Developer Center:


Xcode 4.5 Developer Preview 4 and Apple TV Software Beta 4 have also been made available to developers today.
Update 2: While the removal of the dedicated YouTube app is the biggest change in iOS 6 Beta 4 seen so far, there have been several other additions and changes, with some of them being tracked in this thread.
- New "Wi-Fi Plus Cellular" toggle in Settings allows apps to automatically fall back to cellular data when the Wi-Fi network the device is connected to is not performing well.


- Passbook app now has a new "App Store" button on the welcome screen. While the button does not currently function, it will presumably take users to a dedicated section of the App Store for apps that integrate with Passbook.


- The dedicated Privacy section in Settings has a new listing for Bluetooth Sharing to help monitor and control which devices can share data via Bluetooth.


- Bug with Passbook brightness has been fixed. Launching the Passbook app automatically forces device to full brightness for optimal scanning of barcodes, but in the previous beta the brightness did not return to normal upon closing the app.
(Thanks to Elijah Walsh for tips on changes!)