Apple Releases iOS 6 Beta 3 to Developers
Apple today released the third beta of iOS 6, the company's next-generation mobile operating system set to launch "this fall", presumably alongside new iPhone hardware in the September-October timeframe.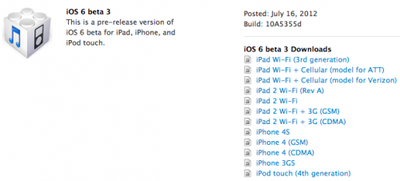 The third beta, which arrives as Build 10A5355d, comes three weeks after the previous developer version of Build 10A5338d.
We'll update this post with additional information on the new release as it surfaces.
Users are tracking new changes both in the forum thread associated with this article and in this thread. One key addition observed so far is a new section in the Settings app for Maps, allowing users to change the volume of the navigation voice, set distances to display in miles or kilometers, set map labels to display either in the local language or always in English, and set map label sizes to either "normal" or "large".


Other changes include:
- Roadwork and traffic accidents showing up in Maps app
- Answer and Decline buttons for FaceTime calls have returned
- iMessage on iPad now accepting phone number as valid contact info
- Greater 3D Flyover coverage in Maps
- Glyphs for bookmarks, Reading List, and history in Safari
- Auto-brightness changes gradually
Update: Also released today: Xcode Developer Preview 3 and Apple TV Software beta 3.