Jonathan Ive on How Apple 'Nearly Shelved' the iPhone
Yesterday, we reported on an appearance by Apple design chief Jonathan Ive at the UK Trade & Investment department's Global Business Summit on Creative Services in which he talked a bit about Apple's design philosophy and its focus on making great products rather than simply trying to maximize profits by cutting corners.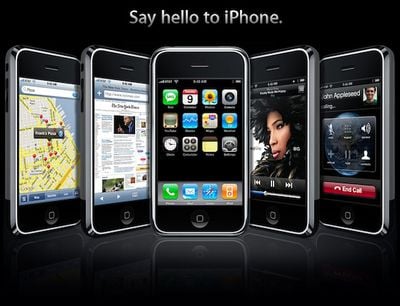 The Telegraph has another report on Ive's appearance, highlighting his discussion of how the iPhone was "nearly shelved" as Apple struggled to deal with a number of issues, apparently including a search for a proper proximity sensor that would reliably turn off the device's screen when it was held to the user's face.
"We nearly shelved the phone because we thought there were fundamental problems that we can't solve. With the early prototypes, I held the phone to my ear and my ear [would] dial the number," he said. "You have to detect all sorts of ear-shapes and chin shapes, skin colour and hairdo...that was one of just many examples where we really thought, perhaps this isn't going to work."
Ive's comments on his experience with early iPhone prototype come just as a number of such prototype designs have surfaced in court documents filed as part of a legal battle between Apple and Samsung.
Apple actually began work on a tablet before the iPhone project got underway, with one early tablet prototype from that 2002-2004 period having surfaced just two weeks ago. Apple was working on a phone at the time, but once Jobs realized that Apple could bring the multi-touch interface of the tablet to a phone, the company focused its efforts on the iPhone project and essentially set the tablet project until it was reborn as the iPad.