Tweaked iPad and New 'iPad Mini' Said to Closely Follow Next-Generation iPhone Launch
In addition to coverage of all-new iPod touch and iPod nano models in his report released earlier today, KGI Securities analyst Ming-Chi Kuo also offered more predictions about Apple's iOS device plans for the September-October timeframe. According to Kuo, Apple is looking to launch the next-generation iPhone in September, perhaps closer to the beginning of the month. But with component shortages and limited on-sale time during the quarter following an expected pullback from consumers in expectation of the launch, he predicts only a modest bump in unit sales over the second quarter's numbers.
iPhone 5 to debut in September. But due to in-cell touch panel and casing yield rate limits, ability to offset older models' shipments decrease will be moderate.
On the iPad front, Kuo is expecting the iPad mini to debut later in September following component ramping in August. He predicts sales of just 1.8 million units during the short time the device will be on sale during the third quarter, exploding to overtake the full-size iPad in the fourth quarter with an estimate of over 13 million units.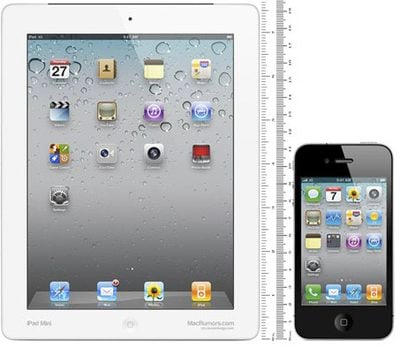 Mockup of 7.85-inch "iPad mini" next to an iPhone (courtesy of CiccareseDesign)
Interestingly, Kuo also claims that Apple will be tweaking the internals of the current full-size iPad around the same time, making changes to address thermal issues and reduce costs.
Digitimes
had
previously claimed
that Apple would be revamping the third-generation iPad later this year with a thinner enclosure, IGZO display, and new heat dissipation capabilities, but Kuo's sources indicate that the changes will be invisible to users.
Though shipments of iPad mini's components will start in August, the new iPad line will end production, ready for transition to a modified New iPad line. As such, component shipments will drop in August as iPad mini's components shipments growth will be offset. On a side note, the modified New iPad shares the same exterior as the original model, but contains modifications to correct its thermal dissipation problem and lower-cost components.
Overall, Kuo is predicting massive iPhone and iPad sales for the fourth quarter of 2012 once the new models have full quarters of sales to build upon. His estimates put total iPhone sales at over 55 million and iPad sales at nearly 24 million during the quarter, spurred in large part by momentum from the iPhone and iPad mini launches.